Best Gulf Coast Fl. Beach Wedding Locations
This beach wedding location guide provides lots of great information about our area beaches. Read about the beaches, see the pictures, watch videos taken on the beach and find the one that's just right for your dream beach wedding. Still have questions? We're here to answer all your wedding location questions with our beach venue planning services, just ask.
Top Beaches for Weddings

The West Coast Florida Beach Wedding Locations that we cover are: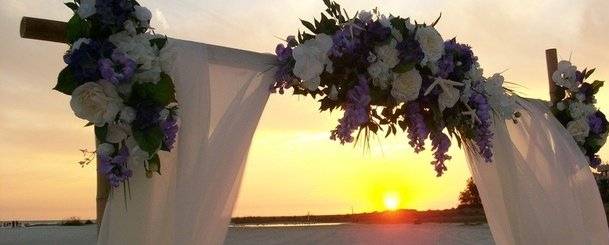 About the Beaches
Many of our top area beaches have that powdery-white sand that Siesta public beach is famous for. Actually the 'Sand' at Siesta Key public beach was tested by Harvard University's Geological Department and found to be 99% Quartz Crystal. It's cool to the touch even on the hottest of days, now that's Cool!
West Coast Florida Beaches are quite different from their east coast siblings. The first thing that is very noticeable is that our West Coast Beaches glide gently into the water, no steep drop-offs.
Gorgeousness
Florida's Gulf Coast water is always warmer than the east coast and has a gorgeous Green, Blue or Turquoise look and feel…Quite tropical actually.
Sunsets & Beach Weddings
Sunsets on Florida's best coast beaches are like… well, they're kind-of-like a 'religious' experience… repeated nightly. No matter what local beach you're at people start to gather just to watch that great ball of fire descend beyond the horizon. This is something everyone has to see to feel, don't miss one, it just might be life-changing.
Now just imagine your Sunset Beach Wedding, a truly magical event… Your wedding will be something you and your guests will remember forever.
The Water
Large crashing waves and undertow are another east coast beach thing. On Florida's west coast the waves are…well, the truth is there are barely any waves at all along Florida's west coast and we like that. The ocean is calm and relaxed and so are our beaches. Come visit and find the easy, laid-back feel of our beaches, neighborhoods and the people who call this area home. These are just a few of the many reasons why so many fall in love with Florida's Best Coast.
Important Beach Information
The National Healthy Beaches Campaign
Sarasota's Mote Marine Laboratory Beach Conditions Report for Florida Beaches
The Florida Health Department's Healthy Beaches Program
Planning Your Beach Wedding
While Florida beach weddings are generally a more casual event you'll still need to do some beach wedding planning. We can help you put together your Florida beach wedding without all the drama. Beach wedding planning services are available to our beach wedding package customers. We also have a page that is geared to Sarasota Beach Weddings with links to videos on some of the beaches in Sarasota, a local sunset calendar and beach wedding themes – themes can be a lot of fun no matter what beach your going with.
Our Beach Wedding Services & Packages
Wedding packages are gaining in popularity and we have a full range of beach wedding packages and options to choose from. We also have wedding officiants who are dedicated to making your ceremony special. Wedding photos are one of the 'must haves' and we will provide professional photography or video of your wedding at a reasonable price, ask about details.
---