About Us
Who We Are:
We are a long-time local Sarasota family living and working year-round here on Florida's Suncoast. We provide Custom yet Affordable Beach Wedding and Vow Renewal Services to all. From Beach Wedding Planning thru your Ceremony, we are truly here for you every step of the way with unsurpassed communication and local area knowledge.
What We Do & What We Offer to You:
We specialize in Beach & Outdoor Wedding Ceremonies, Destination Beach Weddings, Vow Renewal Ceremonies and the many Elopement Weddings we perform thru our Beach Wedding Packages.
I Perform Ceremonies and Provide Bamboo Arch's and other Beach Wedding Decorations along with a Full Range of Beach Wedding Services.
We cover all of Florida's Suncoast beaches, its' many Islands, Keys and Beautiful Parks.
We plan & perform beach weddings at all:
Sarasota Florida Beaches
Siesta key beaches ( Public & Private )
Lido key beaches
Venice Florida beaches
Anna Maria Island beaches
Casey key beaches
Longboat beaches
Bradenton beach
Please call or contact me [ Garry ] with any questions about your Suncoast area beach or outdoor wedding or vow renewal. Destination beach weddings and elopement beach weddings are a specialty.
It is my honor to perform your destination wedding, elopement or vow renewal ceremony.
Services
Your Sarasota Wedding Officiant
I am a local Sarasota Florida Wedding Officiant & Minister serving Sarasota Fl., Siesta beach, Lido Key beach, Longboat Key, Bradenton beaches, Anna Maria Island beaches, Venice Florida beaches, Lakewood Ranch and Casey key beaches.
I perform destination weddings, local resident weddings at the many beautiful outdoor public and private beaches, parks as well as performing many "backyard" wedding ceremonies.
Siesta beach, Sarasota beaches, Lido key beach & More…
We plan & produce fabulous Beach Weddings in the Sarasota Florida area including all area keys, islands & outdoor parks. You can check out our Sarasota Beach Wedding Packages here. We also provide a Free wedding vendor referral service for DIY brides – Please see our on-site "Directory" of wedding professionals.
Beach & Outdoor Wedding Planning
We do Beach Wedding Planning for Siesta Key, Lido Key, Longboat Key, Venice Florida and the Bradenton Beach area as well as Anna Maria Island. Go to our Sarasota Wedding Planners services page here.
SarasotaWeddingIdeas.com is your Beach Wedding Resource & Guide.
We work with only the best wedding professionals in the Sarasota Florida area, and we try our best to showcase these wedding industry professionals through our website directory. You can feel confident working with any of the wedding pros we feature.
Having Good Local Information… Relieves Wedding Planning Stress.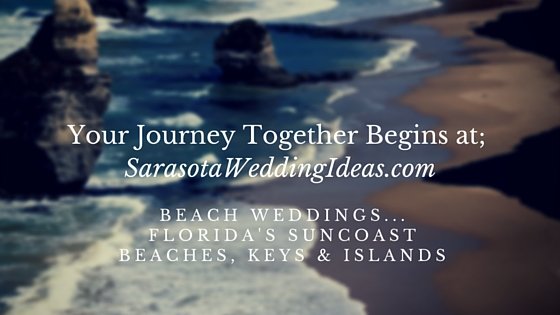 Wedding Planning Stress Relief… SarasotaWeddingIdeas.com
Check us out on Youtube as we build up our wedding videos into a series that will help make Sarasota Wedding Ideas Company the number 1 locally run wedding site for brides from Venice to Anna Maria Island and every beach, key and Island in-between.