Who We Are:
We are Wedding Planners & Artisan Floral Designers that started planning & designing wedding events in 1982. This family tradition continues with our children, who you will actually "See On The Beach" setting up your wedding Arch & decor.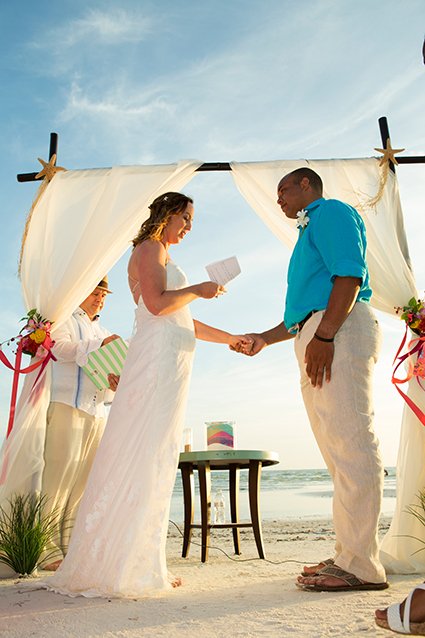 We are NOT Corporate. We are a Family, and a Team, working together with only your wedding event in-mind.
What We Do:
As Professional Designers, we are able to offer "Affordable & Beautiful" Floral & Fabric Designs to all of our couples. See Photos & Short Videos of our Designs & Setups on our Instagram page.
We offer Affordable Beach Wedding Packages and also love to create Custom Designs for anyone wanting something special & unique. If you have an idea just ask us.
The most important thing we do, is keep your event "Stress Free." And, After 5,000 beautiful wedding events, we know how to do that. Read our Google Reviews for honest reviews from real couples.
Compare us with all of the others, We're the "First & The Best"…. All the rest, Charge More and Give You Less. It's Your Choice, Choose the Best.
We Never:
We Never "Over Charge You" to get a beach permit. We Only ask for the "Exact Amount" that the Permit Costs & Only if a Permit is actually required… Always Ask: "Show Me The Permit" to See if You were overcharged!
We Never Charge "Travel Fee's" & Don't need to. We live here.
We Never Limit any of our "Small Packages" to just "Weekdays."
We Never Charge More for "Small Wedding Packages" on Weekends.
We Never Charge More for a "Male" wedding officiant.
Compare & Save:
Compare our wedding packages, our designs, our fair & affordable pricing with all the rest, and you'll come to us for your wedding or vow renewal event.
Siesta beach, Sarasota beaches, Lido key beach, St. Pete Beaches, Public & Private Beach Wedding Professionals.