Sarasota Beach Wedding Options
The most popular options that go with any of our beach wedding packages. You can add options to any beach wedding package A´La Carte style. Some prefer to use decorative options in place of a full bamboo package for a simple, low cost beach wedding. You can see all of our bamboo arch and canopy designs on the 'Beach Wedding Packages' page.
Beach Wedding Package Options – Contact for Pricing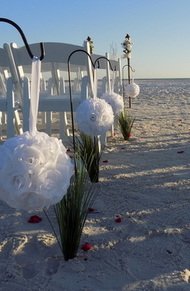 Aisle Decorations
Pomander Balls, Grass and
2, 4 or 6 Decorated Tiki's
Make Every Beach Wedding
More Beautiful.
---
Sand Ceremony Keepsake
Keep The Memory Alive Forever
Bring Your Favorite Keepsake & Sand(s)
Or, Use the Sand on the Beach Under Your Feet
---
Hand Crafted From 'Real Touch' Silk Calla Lilies
Great for Pictures
Included Free in Every Ceremony Package
No Pollen to Stain Your Dress
Why Buy – Borrow Our Bouquet for Free
Just Ask for it
---
Professional Wedding Photography
Unlimited Photo's From Arrival Thru Post-Ceremony Photo Shoot
Exclusive Pricing for Our Clients – 30 & 60 minute photo shoot options
Add Our 'Reception' Option & Capture All Those Once-in-a-lifetime Moments
---
Pre-Recorded Music 
Music Playlists Included
Music for family & Guests Prior to Ceremony
Custom songs for the Processional & Recessional
Music playlist for everyone After the 'I-Do's'
Up-Grade: Live Music – Choice's Available
---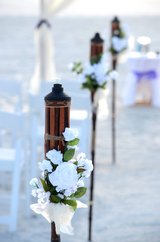 Tiki Decorations are a favorite beach wedding option.
They can be added to the wedding ceremony area
at the sides of your 2 / 4 post Arch.
Also add torches to help define the Aisle.
Add Sets of 2, 4 or 6 Tiki's. Just request them.
---
Rose Petals have been used since ancient times to signify the brides purity & fertility. Rose petals are spread around the alter and processional aisle.
Red Rose Petals – The First Choice
Mixed Color Rose Petals Available
---
Beach Wedding Chairs
Don't forget to order these "Cool White" beach ceremony chairs with a "Padded Seat" for extra comfort. These are the Best quality heavy outdoor chairs available.
Add White Padded Beach Wedding Chairs – Contact for Pricing
Covers are not needed with these good looking chairs.
Colorful Sashes available, Contact for pricing.
---
 Beach Wedding & Vow Renewal Shell Toss Option
The Shell Toss & Blessing is a fun beach wedding addition and it's also a great photo opportunity. It's fun to get everyone involved with this beautiful wedding tradition.
Pick a favorite shell to throw from the basket…. The bride & groom take an extra shell as a wonderful keepsake & memory.