Siesta Sunset Beach Wedding Package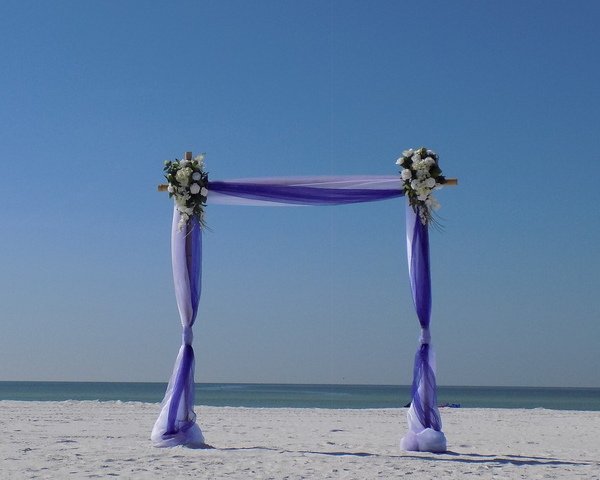 Wedding planning, beach site selection & Permit Planning
Free phone consultation & planning session included

2 post natural tan or chocolate bamboo Arch
3 Fabric Colors Together as Shown: White, Purple & Soft Lavender
2 Flower Side Arrangements included (pictured)
10 White Garden Chairs Included
Extra – 4 Tiki torches decorated w/white floral arrangements & satin ribbon
Free – 8 Shepherd hooks / Choice of 8 Purple or White pomander balls
Extra / Upgrade – 8 White Floral Aisle Vases ( picture to the right )
Ceremony & Aisle area cleaned & raked
Green: grass/ferns continue to decorate the: Shepherd hooks & Balls
Ceremony Officiant (Free) Or; Have Your Own Officiant Perform Services
Your Marriage License is filed for you to Florida's Clerk of the Court
Free by Request – The Special Waterfront Shell Toss & Blessing Ceremony
Free by Request – Unity Sand Ceremony; Heart Keepsake & 2 Sands
Free by Request – Table, Covered in White linen fabric & Organza bow
Extra/Optional – In-person meetings & Rehearsals
We Do NOT Charge 7% Tax on Your Purchase!
Great for 1 to 200 Guests
See pictures on our Instagram page.
Priced at only $899
Extra Decor & Services You can Easily Add:
1 Full Hour Photography Session for your beach wedding
Extra Chairs – Add as many as needed
8 Decorated Large 18 inch White Wood Lanterns & Floral Toppers
8 White Flower Vases on Shepherd Hooks (see side picture of the aisle)
Fresh-flower rose petals for the aisle & arch area
4 Floral Tiki Decorations for additional Decor
Music option with bride's choice of custom Processional & Recessional songs
Rehearsal – ( One Hour )
Beach Permit fees; Extra cost / Not Included
Standard Labor, Delivery, Setup & Removal fee (TBD)
State of Florida Marriage License; Not included
Ask us for more details, information & pricing on any of our beach wedding options.
See our Beach Wedding Options Page for details